You must allow cookies and JavaScript for a proper shopping experience.
Price: $9.99
Publisher: Steve Jackson Games : 1984
Seller ID: GMMG02fgm006
Binding: Staple Bound
Condition: Very Good
---
Glossy cover, little wear. ~ Lost Inheritance (Runequest scenario); Powers & Perils, Lords of Creation, Bushido, Chivalry & Sorcery reviews; Finieous Fingers; Murphy's Rules. ~ 44 pages
View More...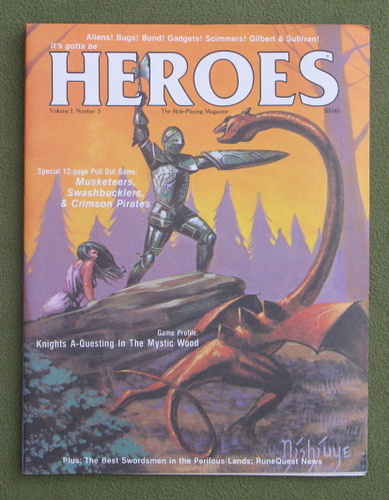 Price: $13.99
Publisher: Avalon Hill : 1984
Seller ID: GMMG22hmg13
Binding: Staple Bound
Condition: Very Good
---
Crisp, with very little wear. Swashbuckler sheet present. ~ 12-page Pull Out Game: Musketeers, Swashbucklers & Crimson Pirates; Accessories For Agents (James Bond); Insects (RuneQuest); Getting the most out of your attribute points in Powers & Perils; Weapon Masters of the Western Lands: the champions of the Perilous Lands. ~ 46 pages
View More...