You must allow cookies and JavaScript for a proper shopping experience.
Price: $34.99
Publisher: Game Designers Workshop (GDW) : 1988
Seller ID: GMSP03gdw522
ISBN-13: 9781558780101
Binding: Staple Bound
Condition: Good
---
Glossy cover, moderate wear. Price sticker. Nice pages. ~ Take a trip to sunny Baja California, where the PCs must retrieve some data cassettes from a Soviet weather/recon satellite that managed to record the weather patterns of the last three years. Whoever has the information on those tapes will be able to forecast the effects of the climatic changes caused by the war -- and be better able to survive them. The only thing standing in their way is a do-it-yourself messiah and a few hundred fanatic followers. ~ RPG. ~ 46 pages
View More...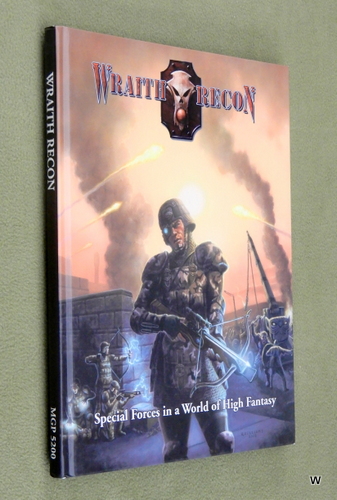 Price: $11.99
Publisher: Mongoose Publishing : 2008
Seller ID: GMHB02mgp5200
ISBN-13: 9781906103927
Binding: Hardcover
Condition: Very Good
---
Glossy cover, little wear. ~ Players take the role of the legendary Wraith Recon units, dedicated special forces trained and equipped to operate far from the rest of the army. Entrusted with the most dire missions, the Wraiths are capable of overcoming almost any obstacle. Armed with the latest in Dardarrick magicks, and kept informed by the mysterious Spellcom system, Wraith Recon units are tasked with assassinations, raids, reconnaissance, and hostage rescue missions, in the name of truth, liberty and justice. ~ 144 pages
View More...