You must allow cookies and JavaScript for a proper shopping experience.
Price: $11.99
Publisher: Mayfair Games : 1987
Seller ID: GMSP12mgi207
ISBN-13: 9780912771649
Binding: Staple Bound
Condition: Very Good
---
Crisp, glossy cover. Counter sheet still stapled in. Nice. ~ Torn between financial obligations to a Midwestern games company and his heroic responsibilities, can Booster Gold defeat a renegade 26th century militia to maintain the course of history?
View More...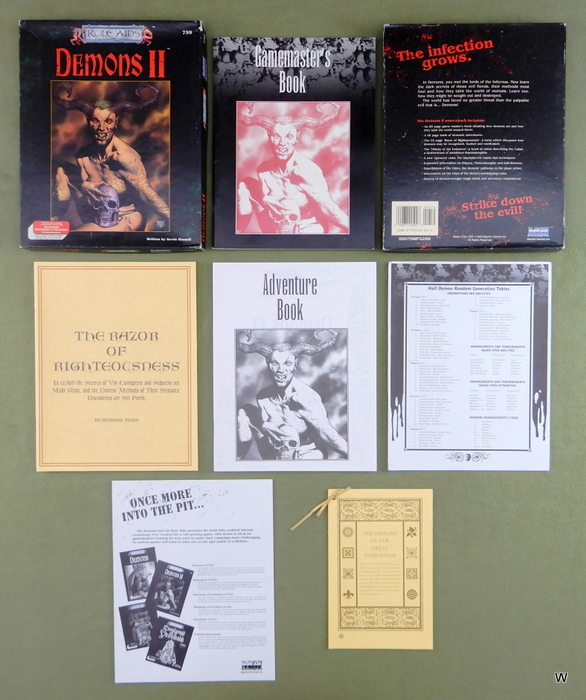 Price: $39.99
Publisher: Mayfair Games : 1993
Seller ID: GMBX93mgi759
ISBN-13: 9780923763817
Binding: BOX SET
Condition: Good+
---
Box is square, with moderate wear. Contents complete, little-used. ~ FULLY COMPATIBLE WITH AD&D 2ND EDITION. In Demons, you met the lords of the Infernus. Now learn the dark secrets of these evil fiends, their methods most foul and how they taint the world of mortals. Learn too, how they might be sought out and destroyed. ~ Contents: * Gamemaster's Book * Adventure Book * The 32 page "Razor of Righteousness", a tome which discusses how demons may be recognized, hunted and eradicated * The "History of the Endeavor", a book of notes describing the Cabal, a brotherhood of ambitious thaumaturgists...
View More...