You must allow cookies and JavaScript for a proper shopping experience.
Price: $129.99
Publisher: Skyrealms Publishing : 1985
Seller ID: GMBX23jor101
Binding: BOX SET
Condition: Good+
---
Good+. Box has light edge/corner wear; art in good shape. COMPLETE, all booklets, charts, crisp. Player Manual has some highlighting on pages 3-6. Sholari Guide has some underlinign on page 2. Errata booklet likewise. Nothing excessive. ~ Contains: Tauther Guide; Player Manual; Sholari Guide; Skyrealm Kolovisondra campaign; Character & resource sheets. ~ The Skyrealms are the game's main setting - floating "islands" of earth levitated by mysterious crystals in the crust of an alien planet. The buildings, races, and bizarre creatures of Jorune were brought to life by the realistic artwork of il...
View More...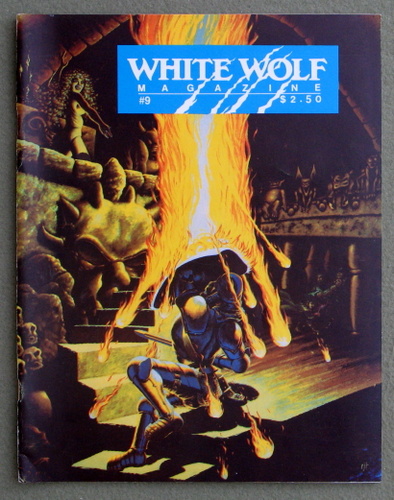 Price: $6.99
Publisher: White Wolf : 1987
Seller ID: GMMG01wwm09
Binding: Staple Bound
Condition: Fine
---
Crisp, glossy cover. Very nice. ~ Moon of Skulls (Solomon Kane fiction by Robert E. Howard); Golems; The Sylvan Gate (FRP scenario); Spell prefixes; Useless Mechs (Battletech); Sports and games on Jorune. ~ 56 pages
View More...