You must allow cookies and JavaScript for a proper shopping experience.
Price: $29.99
Publisher: TSR : 1980
Seller ID: GMSP12tsr7902
ISBN-13: 9780935696851
Binding: Staple Bound
Condition: Very Good-
---
Glossy cover; couple of faint spine wrinkles. Crisp pages. ~ Murder mystery adventure for the Gangbusters roleplaying game. ~ 32 pages
View More...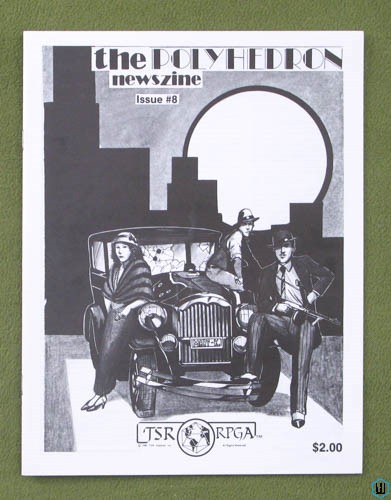 Price: $49.99
Publisher: RPGA Network : 1982
Seller ID: GMMG02pm08
Binding: Staple Bound
Condition: Very Good
---
Crisp, little wear. ~ Part 2 of the two-part interview with Mike Carr author of the FIGHT IN THE SKIES and DAWN PATROL. Tips for dealing with high-level characters. Try to decipher the runes above a door, and hurry because there's something coming up from the corridor behind you! Tips for beginning players and game judges in GANGBUSTERS RPG campaigns. Answers to Advanced Dungeons & Dragons questions about Haste, X.P.'s, fighters multiple attacks, low ability scores and high level characters. ~ 16 pages
View More...