You must allow cookies and JavaScript for a proper shopping experience.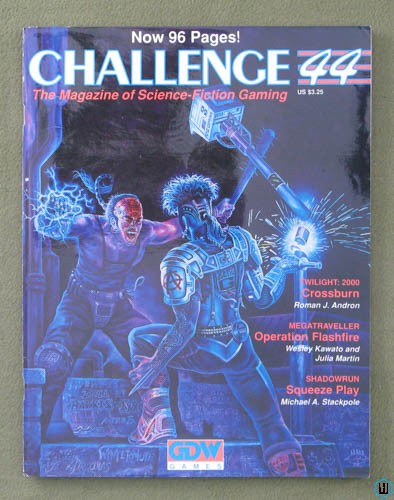 Price: $12.99
Publisher: Game Designers Workshop (GDW) : 1990
Seller ID: GMMG12chal44
Binding: Staple Bound
Condition: Very Good
---
Glossy cover, little wear. Nice. ~ 2300AD * Black Market * Social Class in 2300 * Highland (Ravvers) BATTLETECH * CST-3S Cestus Heavy Battlemech SHADOWRUN * Squeeze Play (Fiction by Michael Stackpole) * Shadow Tiger SPACE: 1889 * Windsinger Saga STAR WARS * Jet Packs MEGATRAVELLER * Operation Flashfire * Lost Treasure Ships of the Abyss Rift * Nullian League * Portfolio of Patrons TWILIGHT: 2000 * Crossburn (Adventure in Georgia's Iron Triangle) * Falling Fragments of a Dream WARHAMMER 40k * Warhammer by the Numbers * 'Ot Spug, Grub! ~ 96 pages
View More...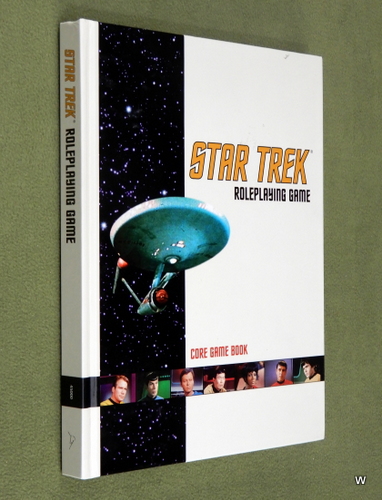 Price: $69.99
Publisher: Last Unicorn Games : 1999
Seller ID: GMHB02lug45000
ISBN-13: 9781889533186
Binding: Hardcover
Condition: Very Good
---
Crisp, little wear. ~ Includes: * A history and timeline of the Federation, with a map of Federation space and its neighbors in 2269, with location guides to Starfleet ships. * 6 starbases, 17 planets, 11 alien races (not only the Klingons and Romulans, but the Gorn, the Medusans, the Horta, and the Tholians), 10 creatures (including the Denebian Slime Devils and Tribbles), and Klingon and Romulan supporting cast. * The complete Icon System rules, including over 50 skills and over 80 custom traits, 7 species Templates, and 8 Starfleet Overlays to build your character - and 7 ready-to-play, but...
View More...