Questions? Comments? Want to sell us some stuff?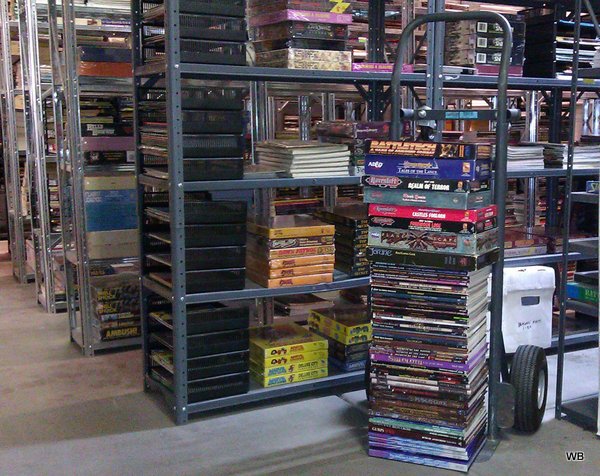 Buyer questions
Shipping costs? See our Shipping page.
What do the Condition grades mean? Explained here.
Offers / Trades
If you have some books, games, or pretty much anything you'd like to sell or trade, tell us about it!  We pay on what we'd spend if we saw the same lot up for auction.
For a quote, we'll need to know what you have, and the condition (wear, markings, completeness, etc.).
Lists are good, photos even better. The less I have to guess, the more I can offer. If you have a lot of items, group photos are quicker.
Or you can just box it up, enclose a note, mail it to us, and we'll send you a check based on what's there. Either way, you'll get the same payout.
Packaging tips below our contact info.
How to Contact Us
Email: 

(Yes, that's a .co not .com)
Sorry the email address isn't "clickable" but we get overrun with spam if I post a clickable link.
Find us on...
We post a lot of photos and behind-the-scenes stories on social media.
Mail: 
Wayne's Books
20987 N John Wayne Pkwy Suite B104 PMB 444
Maricopa, AZ 85139-2926
United States
---
Packaging Tips
The thing to remember about heavy book shipments is that they are a threat to their own package
. If allowed to bounce around freely, the stack of books will act as a battering ram as the package is tossed around in the postal stream.
Tape every panel and seam of the package
. A strap of tape will stop a seam tear before it becomes catastrophic. Tape is cheap; package losses are not.
Fill every air space in the package
with with bubble wrap, rolled newspaper, etc. Pad the contents away from contact with the box walls. Voids in the package become crush zones.
Write clear, legible addresses
. This is the time to use your best penmanship. If you are writing the address on a slip of paper, make sure it is securely attached to the box, else it could be torn off, and the package will disappear into the postal vortex.
Photo below of an incoming shipment from an eBayer: 1) Air spaces not filled. 2) Side seams not taped.
This package was one step from blowing out in the postal stream, and a total loss.