Storage & Care of Books & Games
BOOK BAGS
Buy the bags I use - in bulk 50 count packs - for your collectibles. They'll protect your books from rubs, dust, and perhaps even water exposure.
These Cellophane bags are made of Biaxially Oriented Polypropylene (BOPP), an altogether different resin than Polyethylene (ex. Poly bags, sandwich bag). Cello bag is non-porous, super-clear, non-stretching and generally stronger and more rigid than Poly bags. The bag feels crinkly, not soft like sandwich bag. Acid free, FDA/USDA approved for food use. Ask for a sample with your next order.
I don't suggest using the existing adhesive seal on the back, unless the book is going into long-term storage. The adhesive seal, while quite thoroughly sealing the bag, can be annoying in more frequent in/out uses.
Pocket Book Bag
(Coming soon)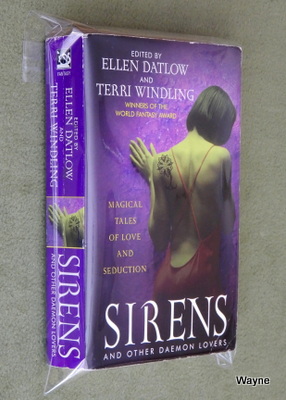 Paperback Book Bag A (5 1/2 x 8 1/8)
BUY  $4 (pack of 50) 
Mid-sized mass market paperback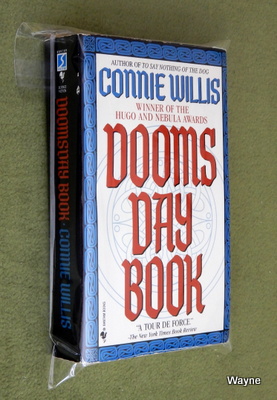 Paperback Book Bag B (5 11/16 x 8 9/16 (A5))
BUY  $4 (pack of 50) 
Mid-sized mass market paperback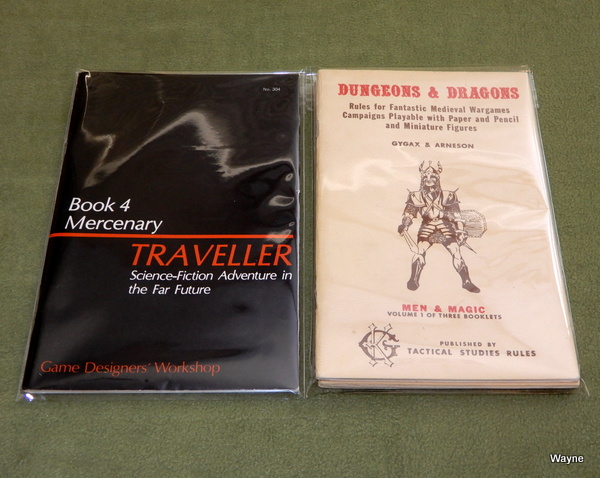 Zine Bags (6x9) 
BUY  $5 (pack of 50)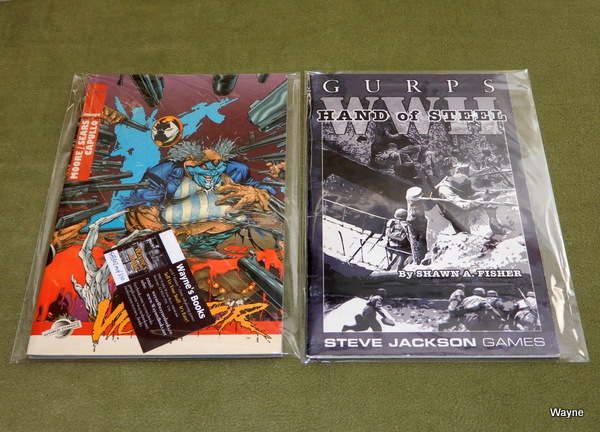 Comic Bags (7 ⅜ x 10 ½)
BUY  $9 (pack of 50)
Will also fit a typical trade paperback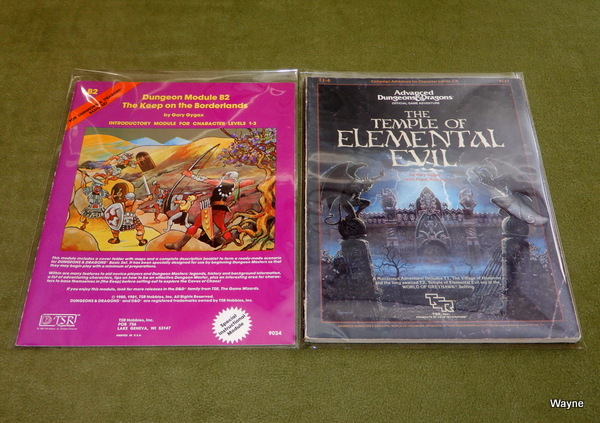 Module Bags (8 3/4 x 11 1/16)
BUY  $8 (pack of 50)
Also good for typical magazines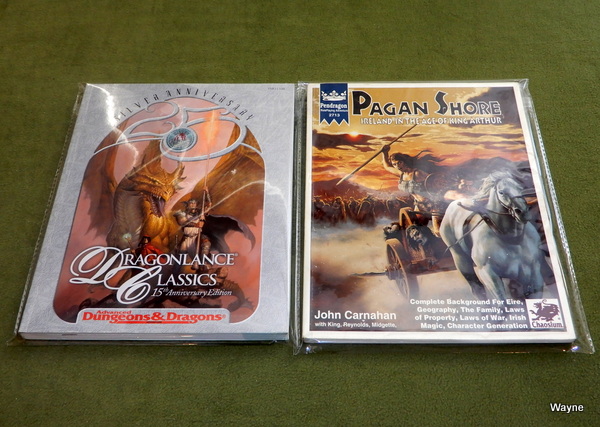 Sourcebook Bags (9x12)
BUY  $9 (pack of 50)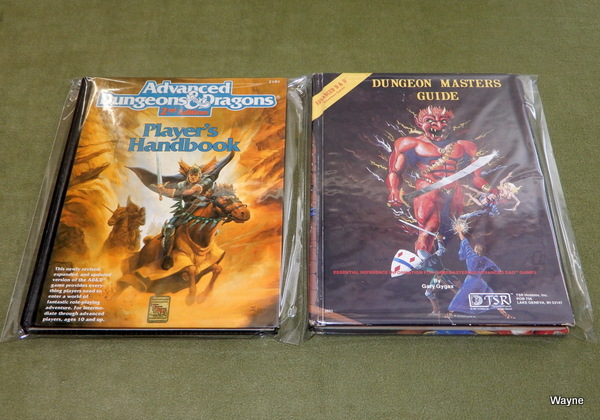 Rulebook Bags (10x13)
BUY  $10 (pack of 50)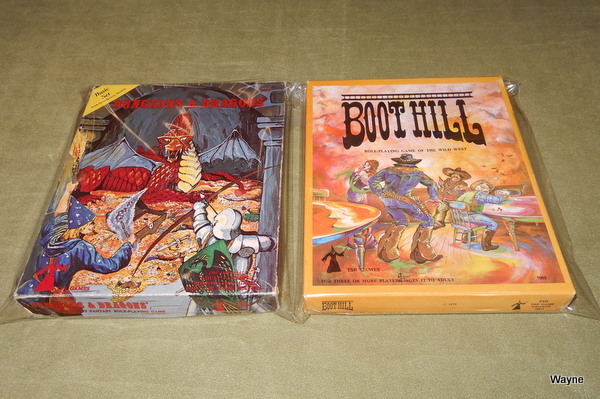 Small Box Bags (11x14)
BUY  $13 (pack of 50)
Will also snugly fit one of TSR's later boxes such as Spellbound, Netheril, Elminster's Ecologies and The North.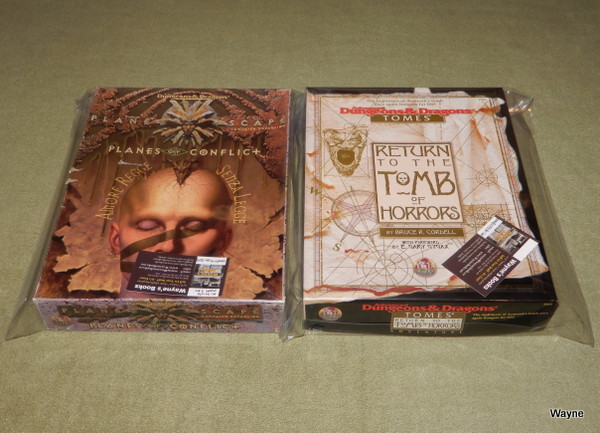 Medium Box Bags (12x16)
BUY  $19 (pack of 50)
I call this "Medium" because many boardgames can go bigger than this, but most RPG boxes will fit in these bags.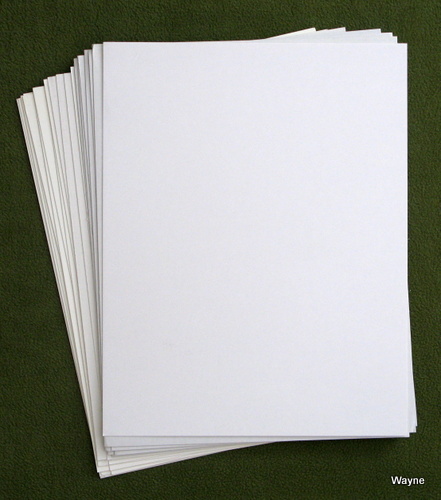 White Backing Boards (8.5" x 11")
BUY  $7 (Qty 20)
These are the usual kind, a thicker paper stock. They are used, so will have some variation in texture, etc.
---
BEST PRACTICES
NO
Scotch tape box repair. Don't repair box lids' blown corners with Scotch Magic tape. This is the usual invisible tape that you find in homes and offices. It doesn't age well, tears easily, and looks terrible. (Instead, use Scotch Packaging Tape to repair boxes - mentioned below.) 
Scotch Magic tape is great, however, for small blemishes in/on books. It also works acceptably as a bag closure.
Rubber bands. They become brittle with age, and can fuse permanently to the adjacent surface. It never ends well for them.
Plastic food wrap (Saran wrap). I used kitchen wrap in my early days. Bad idea. Doesn't age well, and can bond with plasticized book covers.
Loose crayons or ink pens. Don't leave these naked in a box set. They'll eventually melt or leak. Put them in a ziplock bag.
Permanent markers. I've seen folks use Sharpies on their book bags, and they can bleed through some plastics.
Humidity. See article below. Can ruin a collection over time.
Direct light can cause fading to exposed surfaces. Definitely avoid natural or artificial light shining directly on a bookshelf. 
Avoid storing books in the garage, storage unit or basement. Damp air damages books over time. Outside storage can also be subject to bug or mice infestations.
YES
Ziplock bags (Snack, Sandwich, Quart, Gallon). These are great, and can be found in any supermarket. They hold up well over time.
Un-Du. Amazon link. This is my go-to for removing stickers from book covers. If the book has the usual glossy plasticized paper cover, Un-Du can potentially get a stubborn sticker off with little or no trace. It can take a little experience to know which cover surfaces are appropriate - sometimes colors can come off along with the sticker - and good techniques. So practice on books you don't care about.
High quality pencil eraser. Buy a high quality gum eraser.
Scotch Packaging Tape. Amazon link. Super strong and crystal clear. I get mine from Costco in bulk. 
Book Bags. See top of page. 
Post-It Flags(?). Amazon link. I've been experimenting with these as bag closures, easier on/off than Scotch Tape. Don't consider this a recommendation.
Books should be stored flat - or perfectly vertical - to avoid warping. Hardcovers with large page counts stored vertically can sometimes have their heavy page block sag, separating from the upper binding.
Box sets should be well supported to prevent crushing, or dishing to the upper box lid.
---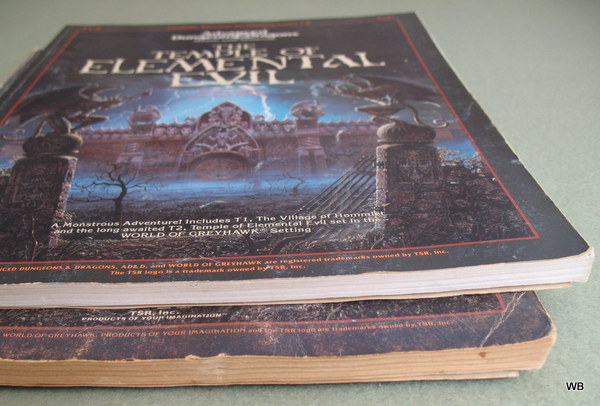 Humidity is the great enemy of paper.
High average humidity levels will rust staples and discolor paper over time. Warm, humid regions pose the greatest danger: Hawaii, Florida, the Gulf Coast are usual origins of stained and spotted books I see.
But you're not automatically safe outside those areas.
Air conditioning will reduce humidity to safer levels, from what I've seen. If you have central air in your home, you should be OK.
Two Temple of Elemental Evil game books at right. Bottom book spent years in a storage locker, no climate control to reduce humidity levels.